Commercial hydroponic projects
Australia and the Pacific Region
Hydro Masta Pty Ltd provides a one stop shop for hydroponic projects, big and small. From planning to installation, staff training and logistics, Hydro Masta's three decades of experience and attention to every detail, ensures our clients' success.
Hydro Masta is also the manufacturer of Liquid Science the Australian made range of hydroponic nutrients and powder packs for bulk purchase. See Liquid Science for details, or you can see the individual products from the link in the top menu bar.
Hydro Masta 20 metre by 10 metre Greenhouse now available
Our complete commercial set-up is now based on this multi-span greenhouse design. All crop types and conditions can be tailored for any combination with a complete set of modifications that make this module our most versatile solution.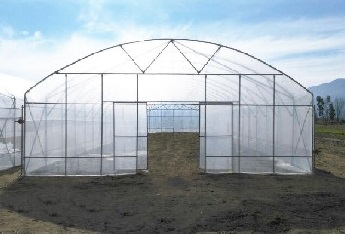 If you have a need for any crop type on scale and budget, we can help you achieve the optimum configuration at the best price!
The Hydro Masta Multi Span Greenhouse has a footprint of 10 x 20m, with 3m doors at both ends for cross ventilation. It comes with non drip, non condensation 150 micron poly film allowing superior light transmission through to the crop via the greenhouse's reduced overhead structural shading.
For full details see the product page and for further information or quotes please email via the link at the top of this page.
&nbsp
&nbsp
&nbsp
&nbsp
Crop Protection: Shade Cloth Structure 25 x 22m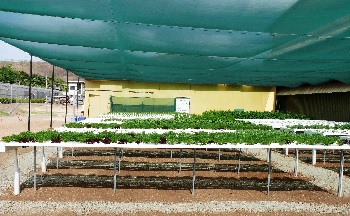 The Hydro Masta commercial shade structures are a turnkey solution for commercial growers needing crop protection for all plant varieties, and are ideal for year-round production of vegetables, flowers and nursery crops that require protection from environmental impacts.
The Hydro Masta Shade Structures have a footprint of 25 x 22m, with 4m x 100mm Pre Gal posts and all stainless steel fittings required. Structures can be supplied in 30, 50, 70 and 80% cloth grades.
The stainless steel rigging used gives the structure its super strength and wind resistance, and with a height of 3.5m gives the grower a wide variety of crop options.
Coupled with the Hydro Masta Modular Mini Farm systems, the shade structures are a one stop turnkey solution for all types of crops and growing conditions.
&nbsp
&nbsp
Advantages

High quality shade cloth
Prefabricated for ease of install
Stainless Steel fittings
Flexible design to suit a wide range of crops
Larger or smaller structures available

Hardware Supplied

4m Pre Gal 100mm posts pre-drilled
All fixings including shackles, swages and turnbuckles
Welded Eye bolts required
900mm Star pickets with caps
Shade cloth Clips (Butterfly Clips)
Stainless Steel rigging wire 3mm
Concrete foundations

Shade Cloth Specifications

Light 30% Medium 50% Heavy 70/80%
Nominal Shade Grn/Blk/Wht 76-80%
Construction Knitted HDPE
Weight 306gsm
Breaking Force Warp 879 N/50mm
Weft 1136 N/50mm
Bursting Force 3200 kPa
Ball Burst 2082 N
Elongation Warp 60.3%
Weft 82.6%
Tear Strength Warp 164N
Weft 185N

Optional extras are available upon request

Side Windbreak
Irrigation system Hydroponic system
&nbsp
&nbsp
&nbsp
&nbsp
&nbsp
&nbsp
&nbsp
&nbsp
Hydro Masta designs retail hydroponic lettuce system for Woolworths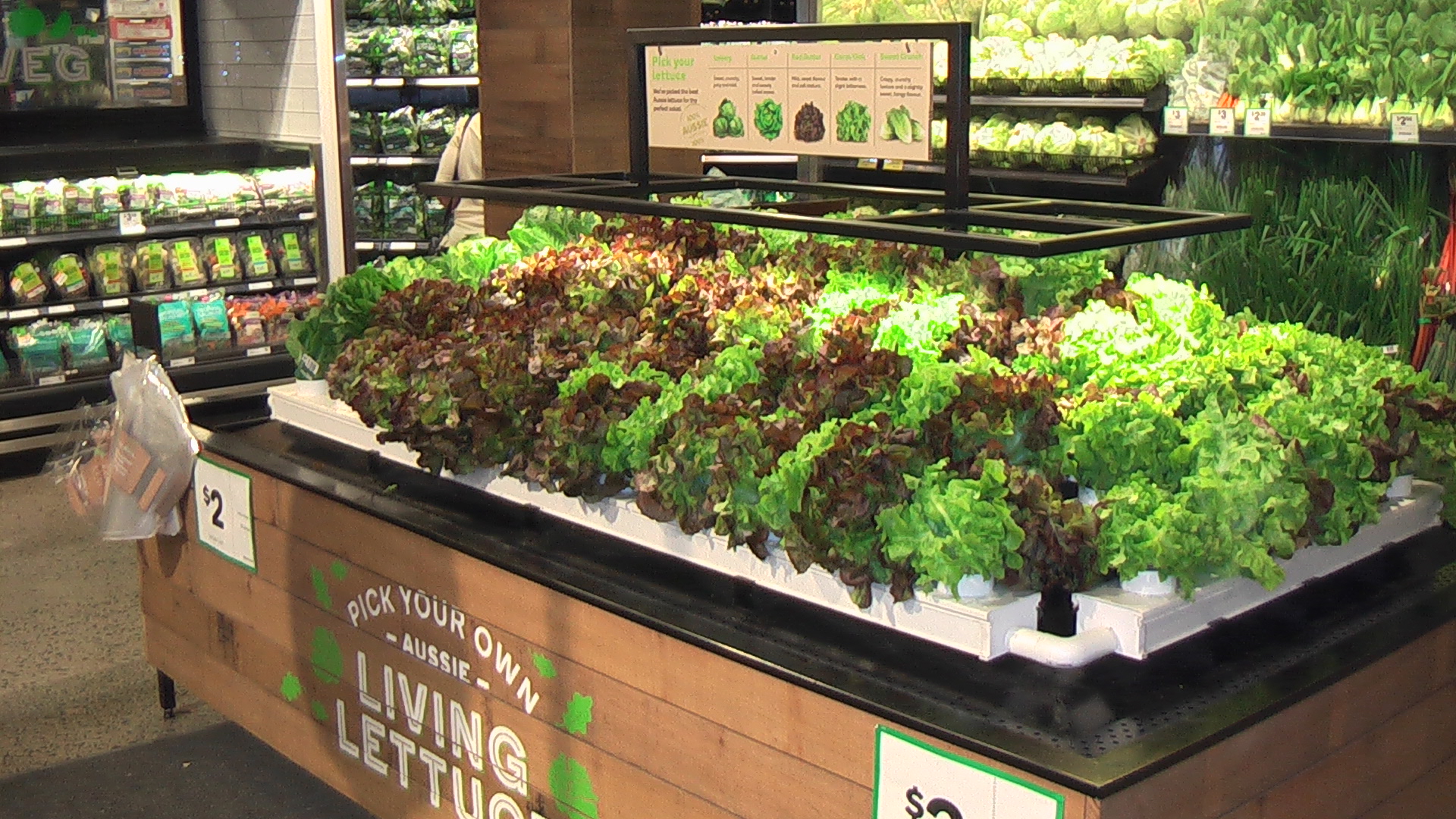 November 2017 and the first trial hydroponic system for Woolworths' supermarkets is installed for testing and customer response at Marrickville, Sydney. Designed to keep head lettuce fresh, produce goes straight from the grower to the instore hydroponic system to keep them growing and make a big improvement in shelf-life after purchase.
Over the next few months, customer response and feedback will be gained and collated as Hydro Masta Pty Ltd works with the "Fresh Food People" to really keep it fresh!
Hydro Masta installs a Microgreens NFT system for Henry's Farm
Taking a fresh approach to fresh microgreens in 2017, Hydro Masta revamped an existing greenhouse and boosted its output with an NFT system. Watch how we did it:
Hydro Masta building the first commercial hydroponic farm on Nauru
Starting in late November 2016, Hydro Masta has begun to transform a double tennis court into Nauru's first commercial scale farm with 2,000 plants per week capacity. This is Stage 1, for leafy greens that will be packed individually, and as mixed salad greens and herb packs for local supermarket retailing plus bulk packs for other commercial buyers.
Our "Farm in a Box" is a twenty foot container with everything needed to construct 24x8x5m NFT benches, 11,500 plant sites, and producing 2,000 plants per week on continous rotation.
Here's what happened from late November 2016 to early March 2017... (with thanks to George for the "eye in the sky"!)
So here we are, just into March 2017 and the first crop ready to harvest...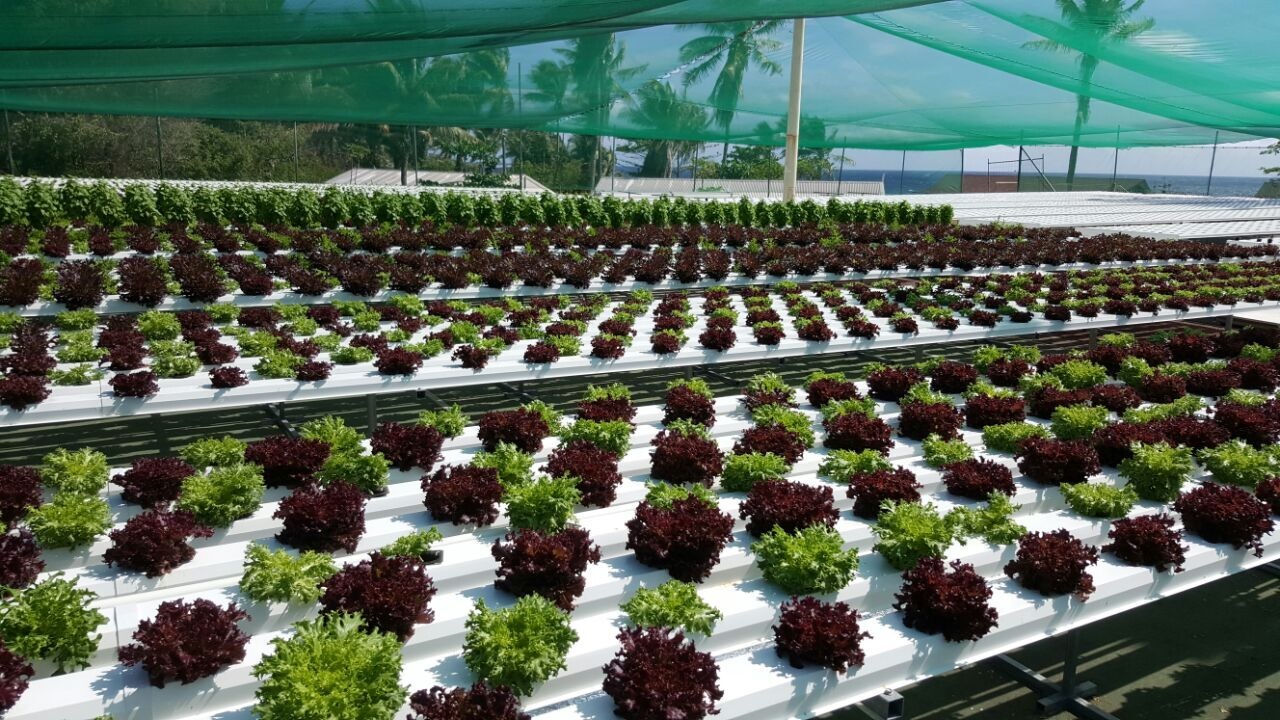 Planting out the first benches in late January 2017...
But here's how it all began...
In just four days we rolled out our "Farm in a Box" on the empty tennis court...
Week 2 on Nauru, and getting close to running the system...
Here are some still pics...
UPDATE: Bashir has just sent this today, 10th Jan 2017, and the propagation is going well, soon be ready to plant out the first benches!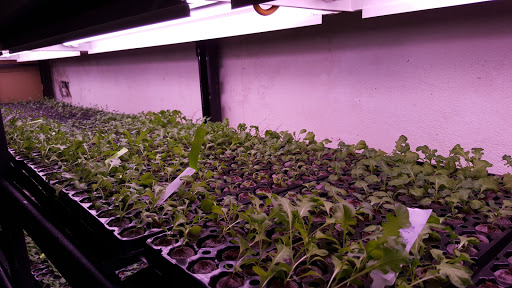 A few days of delay getting our container through customs, so we got things marked out and preparations made, and then waited...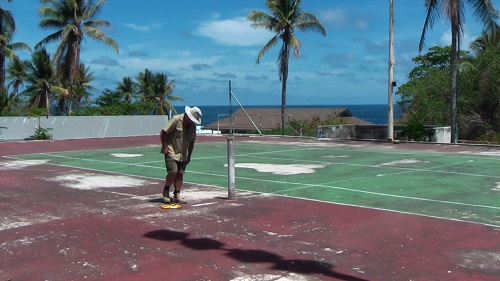 It finally arrived, our farm in a box was lifted up 3m onto the court, and there it was...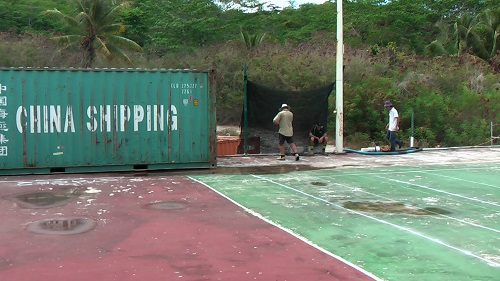 And then the work really began! First, laying out the stands...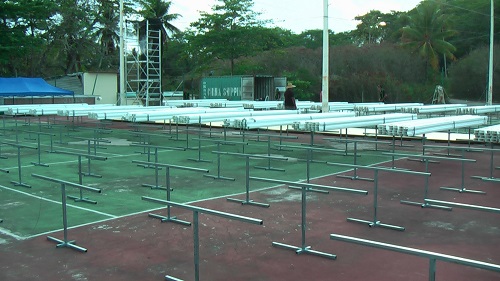 Early Saturday morning, and all the bench stands are secured, posts in place on perimeter and cable up ready to lift the shade cloth...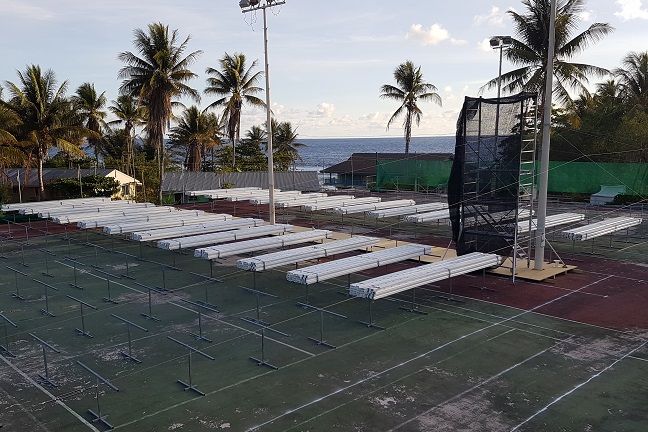 By late Saturday morning we had the shade cloth lifted...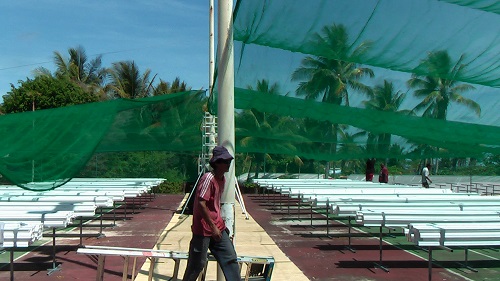 A week later, and the team have painted the walkway...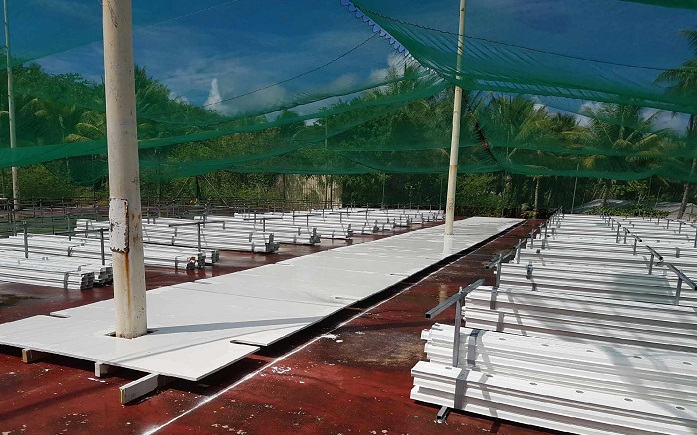 And then it started to come together...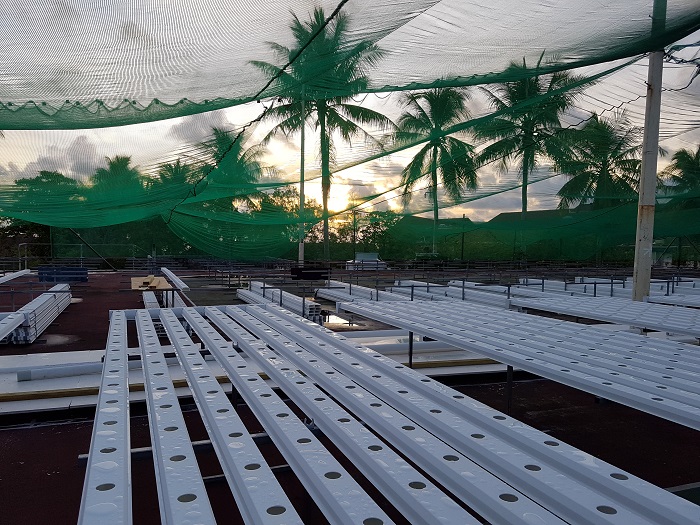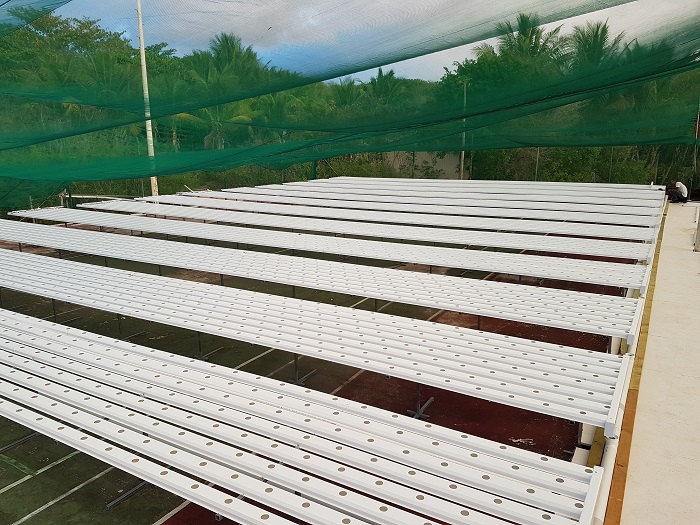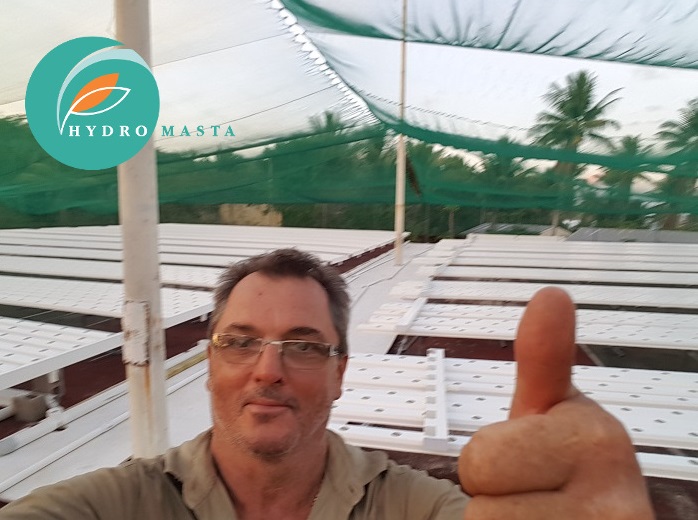 ---
Hydro Masta installs an NFT hydroponic farm for Hurlstone Agricultural High
The greenhouse is now up and running, and producing food by the wheelbarrow!

The outside benches...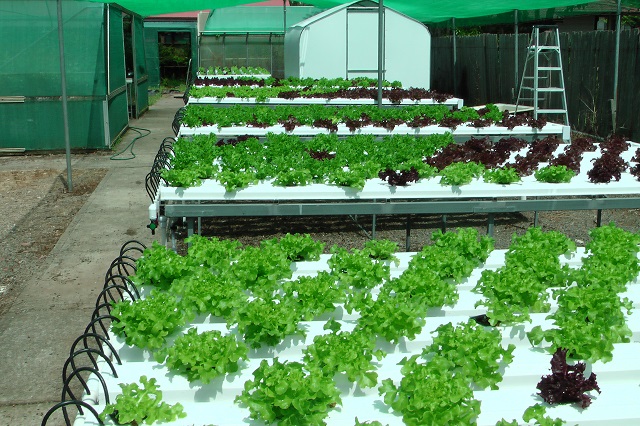 In Feb 2016 Hydro Masta built and installed a hydroponic farm for Hurlstone Agricultural High School. The above picture was taken just one week after the benches were planted with small lettuce seedlings and they have all established good healthy root systems and are growing vigourously.
Here's what they looked like just 7 days before the above photo: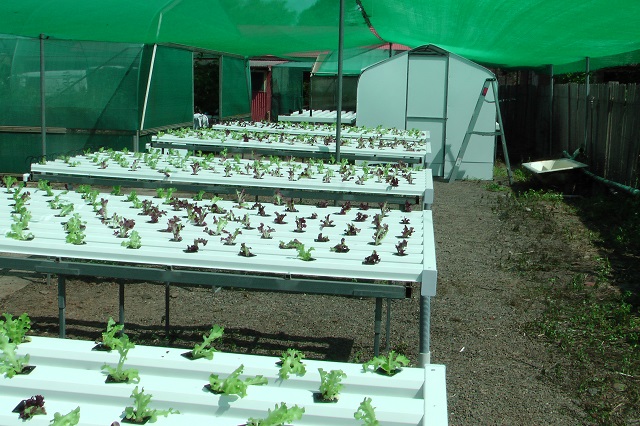 And here below is what the crop looks like after 5 weeks...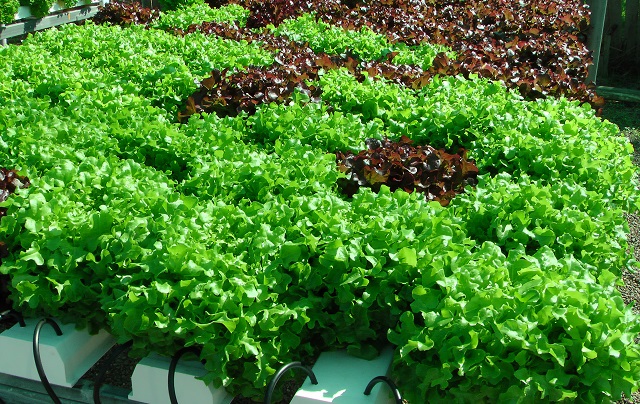 Hydro Masta installs Hydroponic Growroom at Kings School, Sydney
Hydro Masta is installed an indoor hydroponic system for Kings School, Parramatta in 2015. It is stage one of an integrated system which will later include an aquaponic system to grow freshwater fish.

Instead of traditional HID lighting (High Intenstiy Discharge), which produces a strong white light suitable for plants, Hydro Masta is installing modern LED lights (Light Emitting Diodes). These are specially selected LEDs in the blue and red spectrum which plants use to photosynthesise and unlike HID lamps, do not produce much waste heat. The increase in efficiency of these lights is well worth the higher cost, as LED lamps have a fully rated lifespan of 50,000 hours.

Here we are using the LEDmasta 600 units, which have a total of 32 individual 3 Watt LEDs. This unit effectively replaces a 600 Watt HID lamp, runs more cheaply and does not produce any unused light frequencies for plant growth.



A Green Wall of Herbs at SumoSalad in Sydney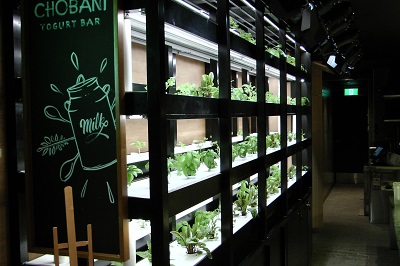 A living "green wall" of fresh herbs now greets the customers at Sydney's CBD store in the MLC building at Martin Place. Fresh hydroponic produce meets the eye and the pallette in Sydney's very popular food court, and Hydro Masta built what is possibly the first of its kind!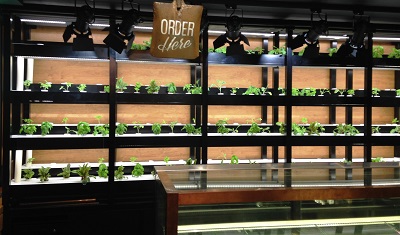 From the wall to your plate!
Four metres long and four levels high, a total of 256 plants are fed with a fully automated hydroponic dosing system. Lighting is provided by special LED grow light strips with both blue and red frequency lights plus natural white ones for a more 'natural' appearance during business hours. Staff can pick herbs fresh from the wall.
The photo above was taken as we first planted out the front section in a staggered cropping, and in a few short weeks the entire system will be big and lush!
Some city stores need some plants too...here's two more: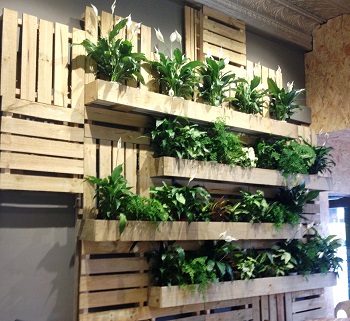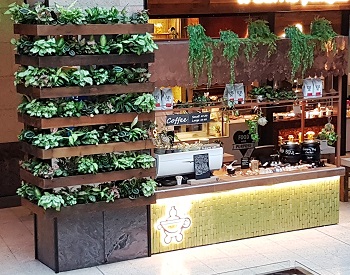 See the videos here)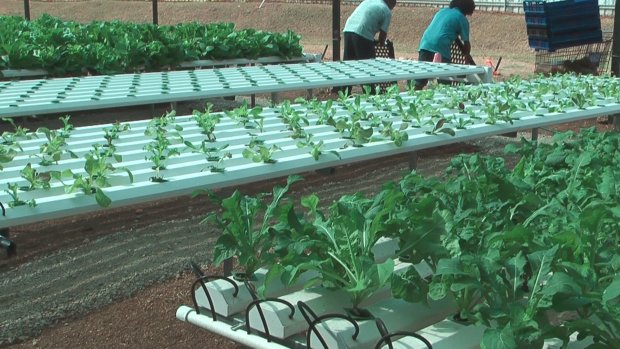 The first stage is a 24 bench NFT system, initially for lettuce, with a capacity of 4,000 plants. Later expansions will see a wide variety of salad greens and herbs grown on their site in Port Moresby, picked and packed fresh for daily distribution to their stores.

watch the progress
Hydro Masta School Projects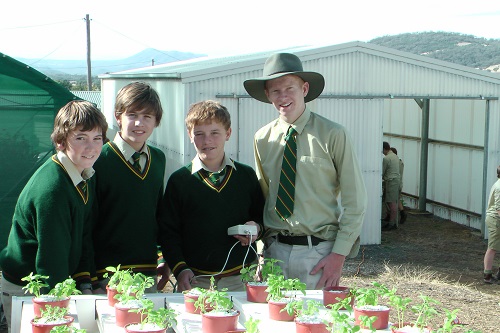 Farrer Memorial Agricultural High School
Hydro Masta installed a 3 bench package at Farrer Memorial Agricultural High School in May 2013.
Hydro Masta Mini Farms Brochure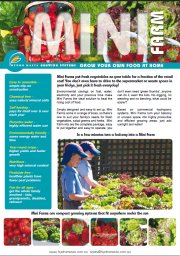 Hydro Masta's designs begin with a range of Mini-Farms for school, home hydroponics, hobby farmers, and progress up to full acreage NFT systems.The full Mini Farm (pdf) brochure is available here, and whether you have a balcony, a small yard, or a hobby farm, there is a Mini Farm to suit you.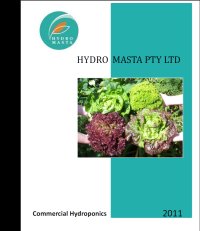 An updated quote for commercial installations can be supplied on request. Please give crop specifications and site requirements.
The Hydro Masta online Library is a resource for the education and training of the hydroponic growers of tomorrow.
Using the links above, growers of hydroponic herbs, strawberries, vegetables or flowers can find useful information on techniques such as NFT (Nutrient Film Technique) and flood and drain, and all aspects of environment control from airflow and carbon dioxide enhancement through to optimal tank operation.
Growing our own food with hydroponics, and aquaponics by incorporating fish into the system, are the future, and all it takes is a balcony or a few square metres. A constant supply of fresh nutritious food is easily available in a little space and with only a little physical effort.
Check out Trev's home hydroponic garden, to see what can be produced in a small area: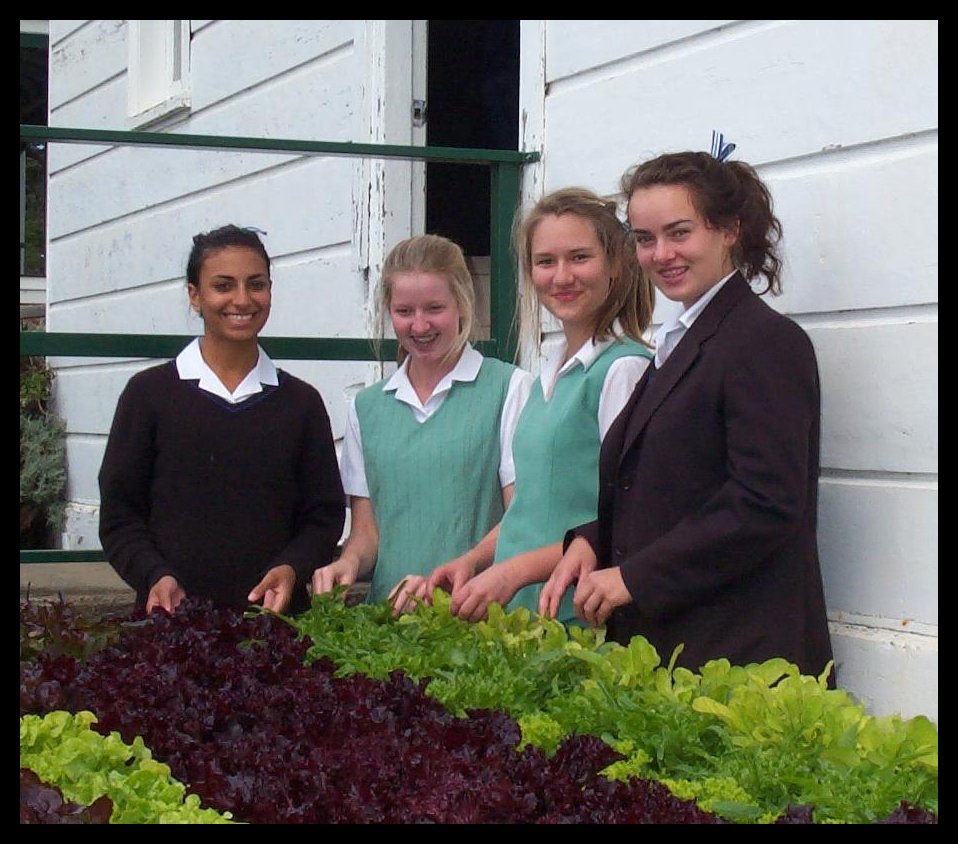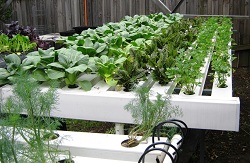 We welcome feedback at all times, so if you have any questions, or have found an interesting site that other members may find beneficial, please contact us.