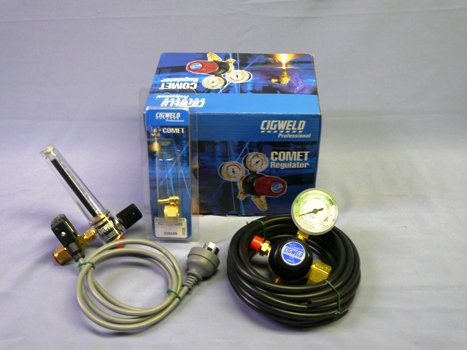 Note that you get freight savings by ordering items together!
Freight and Handling Calculator (NOTE: Minimum Charge AU$10.00)
All interstate parcels are registered for tracking and security (AU$2.00)
This item has a packaged weight of 3.00 Kg. The total weight will be shown when you finalise your order. You will be given freight options and costs during this process. Note that you get freight savings by ordering items together!
If you are unsure of anything, please read our
Freight Policy
Shipping: Via Aust. Post or Courier
Pick up from warehouse at Seven Hills, Sydney, is available Mondays and
Fridays only. Please
email
for an appointment.
Dont forget to visit our
Library
for useful information about all aspects of hydroponics.
Email an inquiry about this product, using this number: [ 16001 ]
CO2 INJECTION KIT
Includes regulator, flow meter, solenoid, pressure gauge and instructions. The kit includes everything you need, except for the CO2 tank, which can be purchased at any welding supply store.
By increasing the growth rate of your plants, CO2 injection can cut growing time in half! This kit is great for increasing yields and speeding up time until harvest for all indoor gardens.
If you have questions about which system is best for your setup, please send us an email. This is the most compact and reliable bottled carbon dioxide system on the market. It is designed for use with carbon dioxide gas only.


CO2 EMITTERS & DISPENSERS
CODE:
16001
ITEM:
CO2 GREENHOUSE KIT (CODE 301793)
PRICE:
$925.00 (including GST)