Commercial hydroponic projects
Australia and the Pacific Region
Hydro Masta Pty Ltd provides a one stop shop for hydroponic projects, big and small. From planning to installation, staff training and logistics, Hydro Masta's three decades of experience and attention to every detail, ensures our clients' success.
Hydro Masta installs Hydroponic Growroom at Kings School, Sydney
Hydro Masta is currently installing an indoor hydroponic system for Kings School, Parramatta. It is stage one of an integrated system which will later include an aquaponic system to grow freshwater fish.
Instead of traditional HID lighting (High Intenstiy Discharge), which produces a strong white light suitable for plants, Hydro Masta is installing modern LED lights (Light Emitting Diodes). These are specially selected LEDs in the blue and red spectrum which plants use to photosynthesise and unlike HID lamps, do not produce much waste heat. The increase in efficiency of these lights is well worth the higher cost, as LED lamps have a fully rated lifespan of 50,000 hours.
Here we are using the LEDmasta 600 units, which have a total of 32 individual 3 Watt LEDs. This unit effectively replaces a 600 Watt HID lamp, runs more cheaply and does not produce any unused light frequencies for plant growth.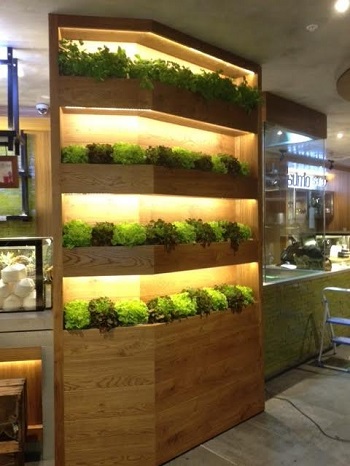 A Green Wall of lettuce at Sydney's SumoSalad
A living "green wall" of fresh lettuce now greets the customers at Sydney's CBD
SumoSalad
.
Fresh hydroponic lettuce meet the eye and the pallette in Sydney's very popular salad bar,and Hydro Masta was happy to show off the living produce!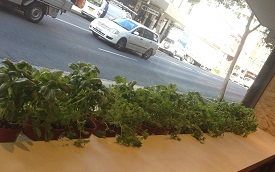 The herb window box shown above, is fed in a similar fashion, however this system also has a level indicator so the client can monitor when watering is required.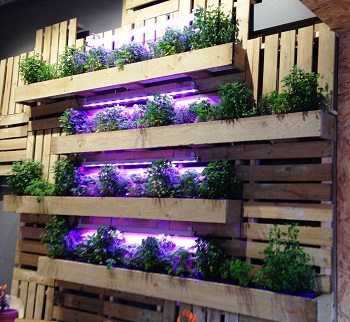 In the same store, Hydro Masta has designed another living wall incorporating hydroponic channel built into wooden pallets which we built especially for this project.
Fresh herbs, which sit inside the hidden hydroponic channel, use natural capillary action to draw up the water containing a slow release fertiliser. Lighting is provided by special LED grow light strips with both blue and red frequency lights plus natural white ones for a more 'natural' appearance.
So when you sit down to eat at the Crown Street's Sumo Salad you can see these herbs growing on the wall: sorel, mint, parsley, oregeno, rosemary, thyme, and rocket. Over coming months more stores here in NSW and QLD will have their own living walls.

See the videos here
)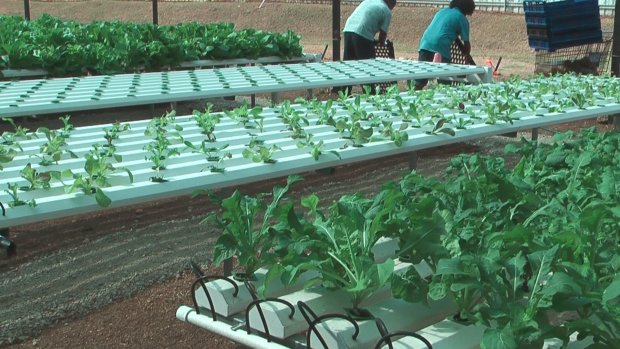 The first stage is a 24 bench NFT system, initially for lettuce, with a capacity of 4,000 plants. Later expansions will see a wide variety of salad greens and herbs grown on their site in Port Moresby, picked and packed fresh for daily distribution to their stores.

watch the progress
Hydro Masta School Projects
Farrer Memorial Agricultural High School
Hydro Masta installed a 3 bench package at Farrer Memorial Agricultural High School in May 2013.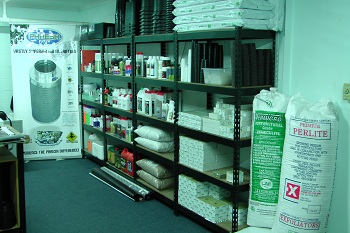 For all your hydroponic needs
"Have you got a showroom?"
Yes, we do, at Seven Hills, and it's open Monday to Friday but by appointment only! So please call first to arrange a suitable time!
Put your hand on what you need, or order from this website and just pick up later...you choose what suits you.
And don't forget to let us know you're coming, so you can be sure we're here to meet you.
Hydro Masta Mini Farms Brochure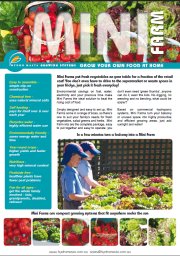 Hydro Masta's designs begin with a range of Mini-Farms for school, home hydroponics, hobby farmers, and progress up to full acreage NFT systems.The full Mini Farm (pdf) brochure is available here, and whether you have a balcony, a small yard, or a hobby farm, there is a Mini Farm to suit you.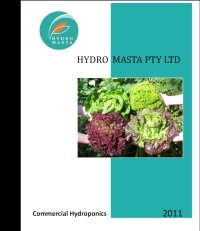 An updated quote for commercial installations can be supplied on request. Please give crop specifications and site requirements.
The Hydro Masta online Library is a resource for the education and training of the hydroponic growers of tomorrow.
Using the links above, growers of hydroponic herbs, strawberries, vegetables or flowers can find useful information on techniques such as NFT (Nutrient Film Technique) and flood and drain, and all aspects of environment control from airflow and carbon dioxide enhancement through to optimal tank operation.
Growing our own food with hydroponics, and aquaponics by incorporating fish into the system, are the future, and all it takes is a balcony or a few square metres. A constant supply of fresh nutritious food is easily available in a little space and with only a little physical effort.
Check out Trev's home hydroponic garden, to see what can be produced in a small area: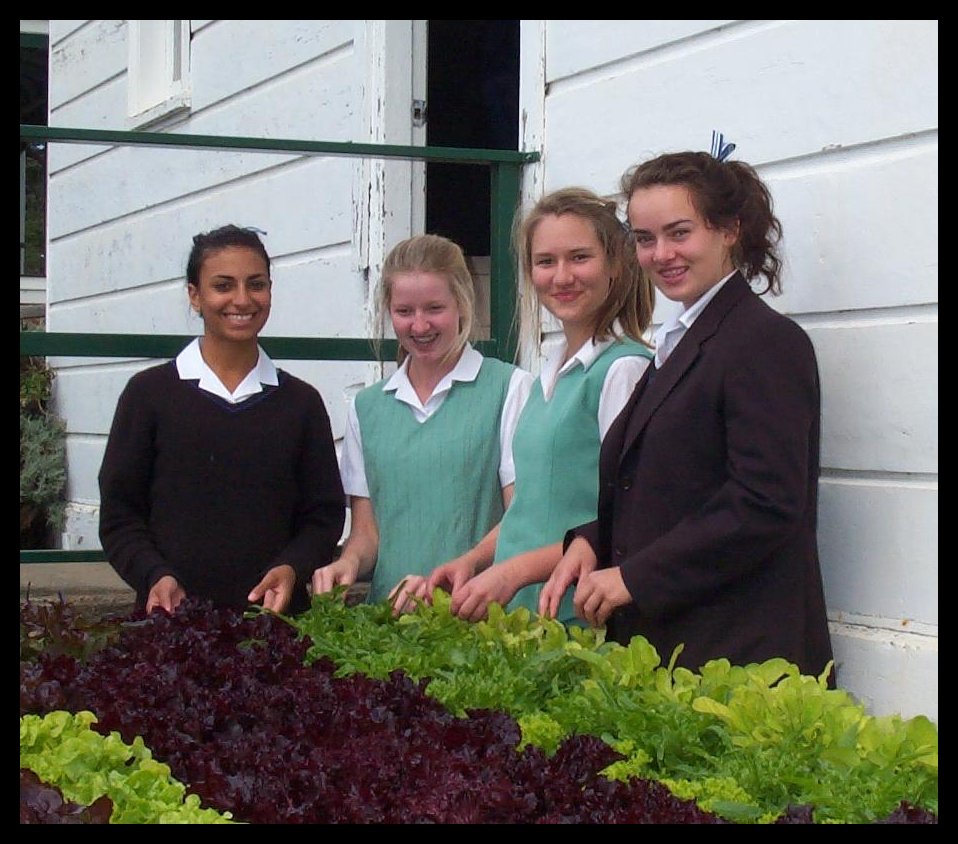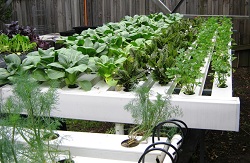 We welcome customer feedback at all times, so if you have any questions, or have found an interesting site that other members may find beneficial, please contact us.
Our Online Hydroponic store is just one click away on the menu above! Just use the Online Store link on the menu bar above to find the items you need, click the 'Add to Cart' button and then 'Checkout' from the 'Shopping Cart' menu. Simple!
And remember that combining orders saves on freight!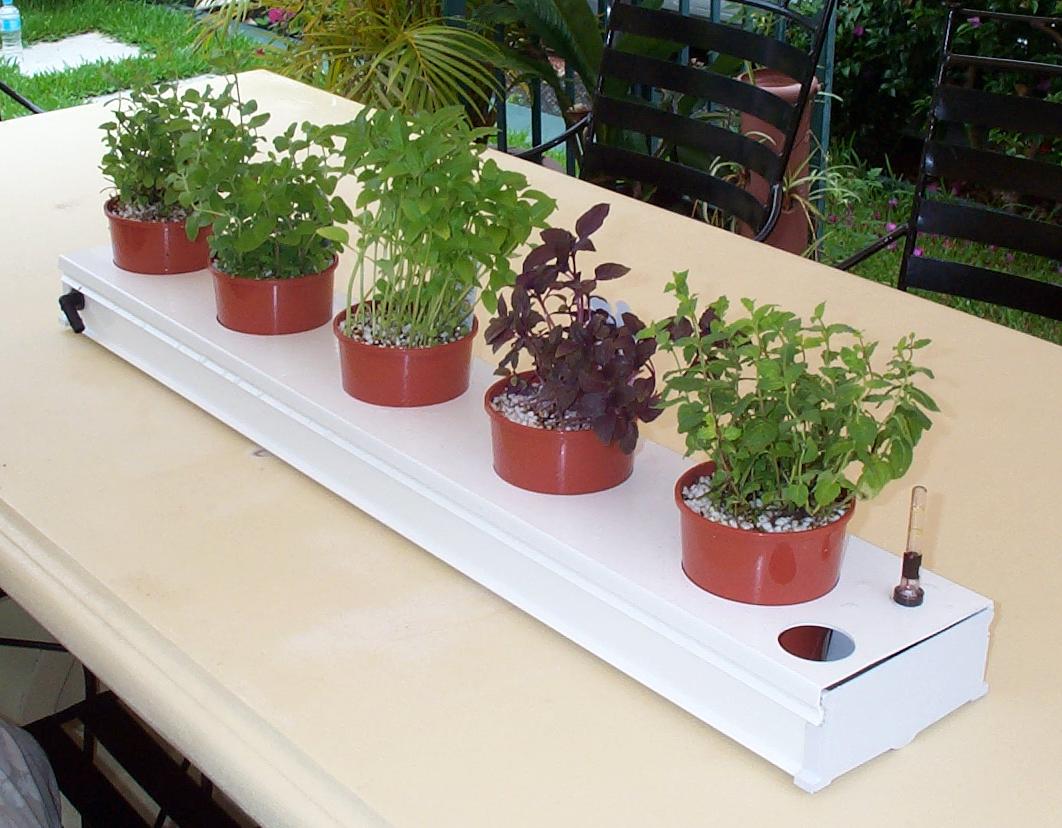 PAYMENT OPTIONS
Payment can be made with PayPal, Direct Deposit, or Money Order, and the checkout system will give you these options. However, due to some cases of misuse of PayPal accounts, we require your first order to be paid by Direct Deposit to verify your details. Subsequent orders can then be made with Paypal if you prefer and you don't even have to have a PayPal account; you can just use your credit card, and at no cost to you.
LOCAL PICK UP
Orders are available for pick up from our showroom at Seven Hills, Sydney, Monday to Friday by appointment. Please
email
or phone to arrange a suitable time.
If you'd like more detailed explanations of how our store works, or what savings you can make by creating a member account, then see the Store Guide for assistance.
So whether you're after a complete hydroponic kit or a pH probe, it's very easy to find and buy right here...right now!
Hydro Masta supplies an extensive range of hydroponic kits and nutrients, and stocks all major brands of hydroponic additives and growth promotants, and we also ship goods Australia wide within a couple of working days!
---